Compact sized Love Lock Tree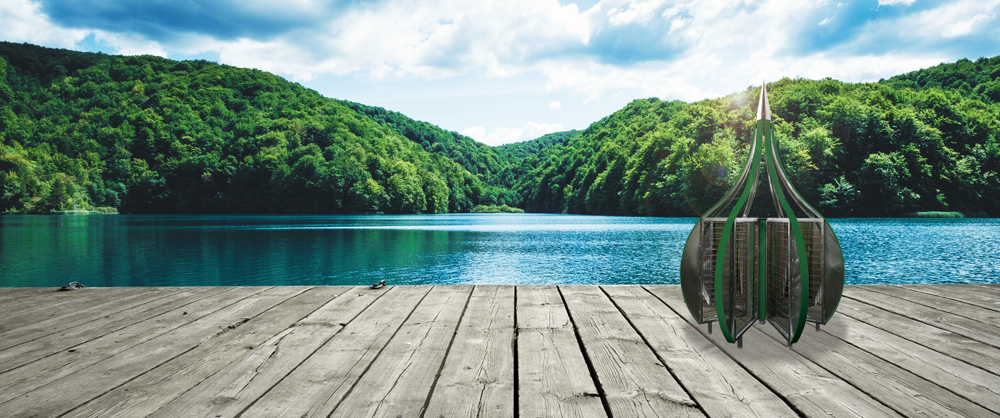 The 'Compact' size Love Lock Tree…
A tree to hold around 10,000 padlocks.
This is our Compact size Love Lock Tree, holding around 10,000 padlocks. You can walk all the way around it, and in between the structure's eight 'branches', with the opportunity to hang padlocks on any one of the 16 display panels.
The trees can be located in a variety of urban, rural or coastal locations, both indoors and outdoors. They have customisable features/elements and are available in most colours. They can be permanently sited, or portable depending upon base option chosen. For the full technical specification click here.
Key points…
Constructed from steel, galvanised and stainless.
Evergreen tree shape, available in most colours.
Height – 3.2 metres/10.5 feet.
Width – 2 metres/6.6 feet.
A

ccessible

by all.
Easy to erect, by yourself or our installation team.
Holds around 10,000 padlocks, safely!
For both indoor and outdoor environments.
Stands alone or in groups 'a forest'.
Customisable features; finial, plaques, colour, display panels, etc.
Easy to export all over the world, made in the UK.
Ground penetration can be deep, minimal or zero, even portable, subject to base choice.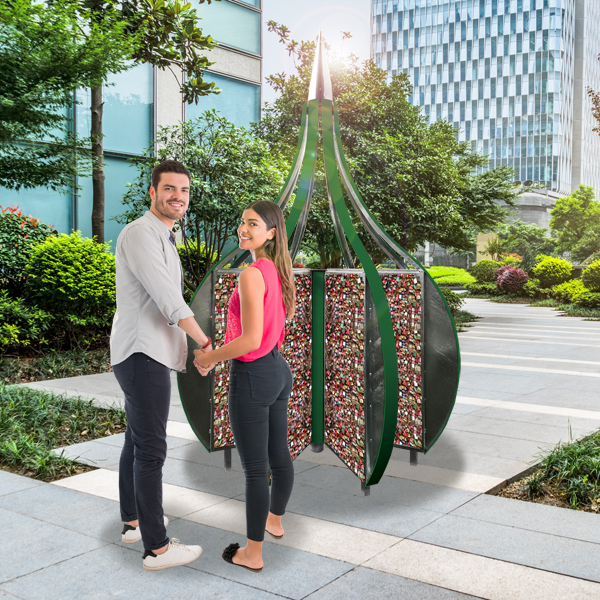 Whether you have love locks already on your structures, want to attract more tourists, or have a brand new way to celebrate an event or occasion… Love Lock Trees can help!

Cities/Towns/Villages
Country and National Parks
Nature Reserves/Seaside Resorts
Stately Homes/Country Estates
Tourist Attractions
People hang love lock padlocks, attract them to your location, with your own dedicated love lock structure.
You could even have and sell your own bespoke padlocks!

Charities and Trusts
Councils
Land Owners
Local Authorities
Tourist Attractions
Are your bridges, railings, statues already covered in love lock padlocks, install a tree and re-focus the public's attention towards this new love lock structure, allow and encourage love lock padlocks and the tourist that bring them, but in a safe and now controlled manner.

Animal Sanctuaries/Rescues
Charities/Support Groups
Pride Events
Schools/Colleges/Universities
Memorial Locations
Hospices
Sports Grounds
A fun and attractive way to engage with your students/visitors/staff OR even fundraise at your event/location, by encouraging people to hang a special message/love lock padlock on your Love Lock Tree.
Demonstration trees
Would you like to come and see our demonstration Compact Love Lock Tree?
If so, please call or email to make an appointment to visit. Our demonstration tree is located in a Derbyshire.